Tripartite MoU Signing on Statelessness Issue in Sabah
For the first time, the three NHRIs signed a memorandum of understanding (Memorandum of Understanding / MoU) for Statelessness Issue in Sabah virtually because of the COVID-19 pandemic.
Komnas HAM signed with Suruhanjaya Human Rights Malaysia (SUHAKAM) and Committee for Human Rights in the Philippines (CHRP) to encourage the handling and settlement of cases of stateless people, Friday (24/7/2020).
The limited meeting between these parties does not reduce the solemnity of the ceremonial event. Komnas HAM Chairman Ahmad Taufan Damanik, SUHAKAM Chairman Tan Sri Othman Hashim, SUHAKAM Commissioner Jerald Joseph, and CHRP Commissioner Karen Gomez-Dumpit carried out the procession in an orderly manner witnessed by other commissioners, structural officials, and staff of each NHRI.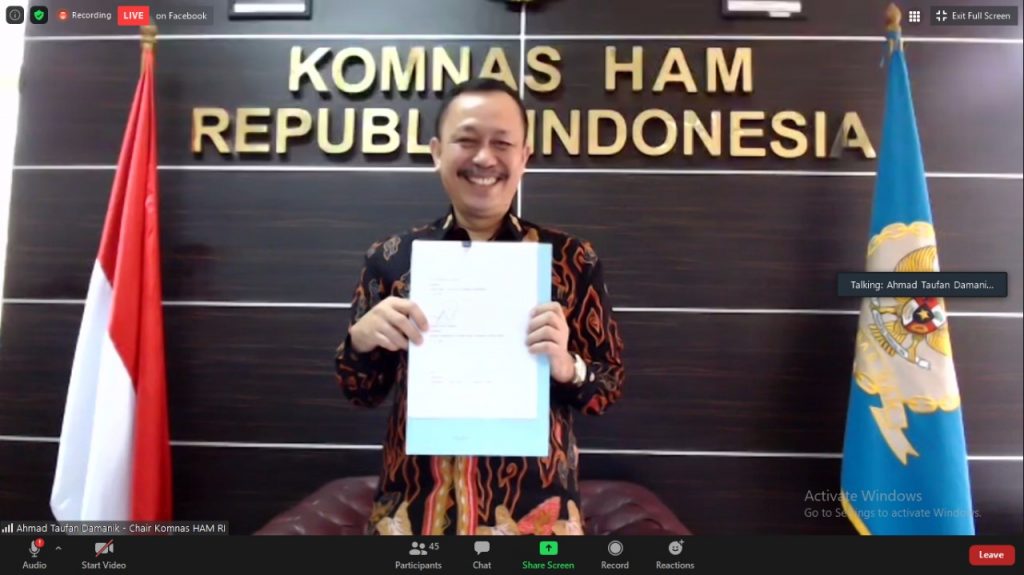 The latest MoU includes the role of the CHRP as a joint part signing between Komnas HAM and SUHAKAM. Previously, MoU has been signed on 23 April 2019, CHRP became an observer.
"Three NHRIs will collaborate with their respective governments on issues relating to stateless people in Sabah, as well as conduct joint research on the geopolitical and historical aspects of the problem," Taufan explained in his remarks delivered at the Komnas HAM Office.